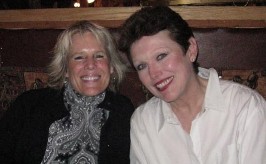 Kim Kirmmse Toth and Cynthia Leibrock
http://www.positiveaginginc.com
offers a quality
program every week in her Tuesday Teleseries.
Tuesday, 4/21, at 4:00 pm Eastern time her guest speaker is Cynthia Leibrock.
The topic will be Aging in Place, how and what we can do to safely stay in our homes until we take our last breath. Cynthia had a great spread in the New York Times about this very topic. Check out her website at
http://www.agingbeautifully.org
. This is not a call to be missed!
If you know anyone who has a desire to stay in their home and is unsure how to do so, please send them to
http://www.positiveaginginc.com/kimstuesdayteleseries.html
to sign up for her free Teleseries.